Comfortable sleeping with diabetes and insulin pump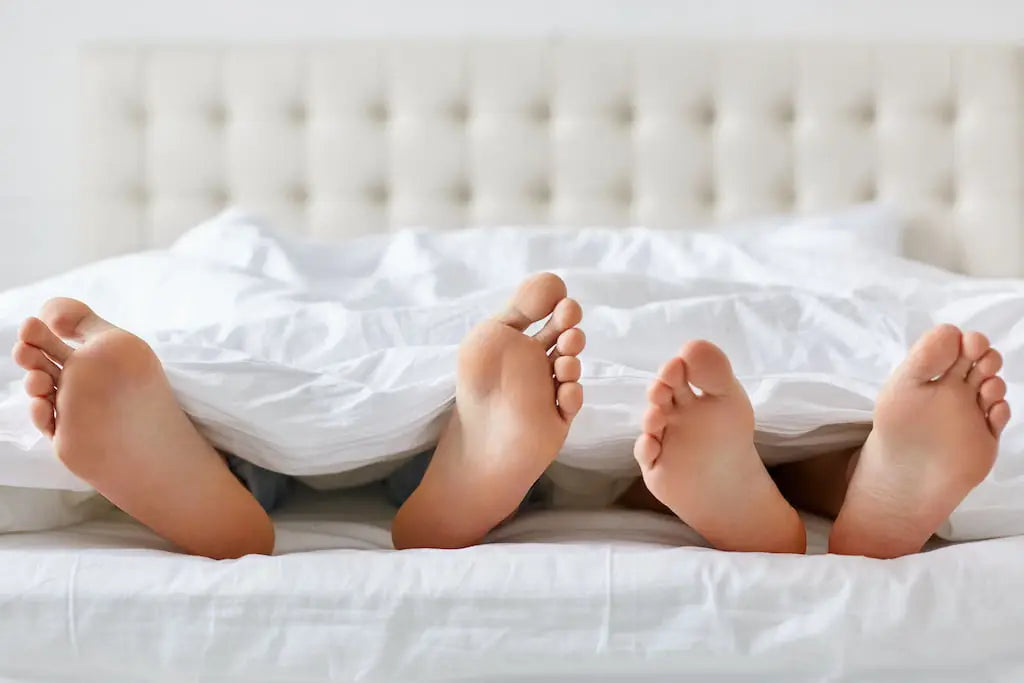 Sleeping with an insulin pump can be difficult
- especially in the beginning. It's just a matter of trying out what works for you. Because sleeping with an insulin pump connected to your body is definitely not the same as sleeping without one. Of course, you don't want your pump to get in the way. Some people put the pump down loosely at night, possibly with a sleeve or sock around it. But
it is safer to use a top with pockets or waistbands.
Kaio initially slept with a runner belt, but because it had a buckle in the same place as the infusion, this was not the best solution to sleep with the pump. We discussed it with our partners and started making variants ourselves with a buckle at a different place. Then we tried a shirt with a pocket that was available in the market at that time, but the pump kept falling out of the pockets and the seams of the shirt itched. Once again, we discussed with our production partner and started making it ourselves. In the summer, however, Kaio prefers not to sleep with a shirt. At the end of the day he usually sleeps with the
Dia-Pouch
, where he can decide for himself where the buckle is.
But that's what works for us. If there's one thing you learn with diabetes, it's that
everyone is different
. So, it's just a matter of trying it out and see what you like best. In the meantime,
we offer various possibilities
to sleep with an insulin pump:
Dia-T.Top incorporates 2 inner pockets
, one on the left and one on the right side to place
your insulin pump
. So, you can sleep however you want, without worrying about your pump.
The pocket also has
two openings for your infusion set
, one in the top and one in the bottom. Dia-T.Top offer you simplicity, comfort and discretion.
The Dia-BellyBand is comfortable
,
lightweight
, fits right around your waist and has no clips to lie on. The Dia-Bellyband has 2 reinforced foam infusion set bottom holes, one on the right and one on the left. This makes sleeping with an insulin pump a lot
easier
and
more comfortable
.
The
most flexible way to sleep
with an insulin pump, hang it, clip it.
The Dia-Pouch is
Kaio
's favorite but not necessarily yours, unfortunately we all need to find out ourselves what works best for us. Dia-Pouch is a
functional pump bag with a loop
for nearly any belt and a carbine hook that make sure you can carry your insulin pump with you while you sleep. Sleeping with an insulin pump is best when you can sleep exactly the way you like it. That is of course the main purpose of diabetes aids like this one.
Both were developed by our partner to improve strongly on the products that where available at that time. Instead of tape and plasters to help you keep your
CGM
sensor in place, this since Kaio regularly lost his during his sleep. The
Dia-Band
is an
armband made of a soft and comfortable material
that slides over the arm, it is approximatively 11.5 cm long and is
suitable for nearly all sensors 
like the Guardian from
Medtronic
, the G6 from
Dexcom
, the
Freestyle Libre
sensor and even the
Omnipod
.
At the top,
a good quality elastic of 2.5 cm minimizes sliding and moving
. We now have these available in our standard material, lace and ultra-thin as well as nearly 100 different colors and prints.
Do you have the Guardian Sensor from Medtronic? Find out
here
our page dedicated to our accessories.